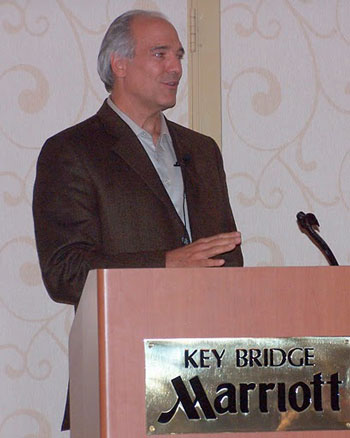 A good presentation can entertain, inform, and open new perspectives for you. Most importantly, it can inspire you to take positive and effective action in your life.
Dr. Wade's talks are designed to give you the highest quality useful tools and ideas that you can put into action right now, to make a happier, more dynamic and satisfying life. He starts with what is true for you right now; not what you wish were true, or what you'd like to believe is true, but the reality that you are actually living with. From there, you can take some relatively simple actions that can improve the quality of your life as it is; skills that you can build to realistic habits into the future.
Dr. Wade is available for keynote, breakaway, and workshop presentations, and is happy to adapt and customize his presentations to your particular needs. You will come away from his presentations with tools and ideas that are practical, powerful, and sustainable over time.
If you want to learn how you can live a happier, more satisfying life - not as an inspirational moment that fades, not as some sort of idealistic or theoretical fantasy - but taking your actual life, as it is, with all of the hardships and problems as well as the strengths and blessings, then you'll want to have Dr. Wade come and speak to your group.
Here is what people have to say about Dr. Wade's presentations:

Joel Wade has spoken a number of times at my organization's conferences, and our attendees (and I!) look forward to his talks. He has a gift for bringing abstract principles to bear on the everyday reality of personal life, and for capturing the emotional nuances of inner life in words that resonate. He motivates people not only to understand the ideas but to apply them in the pursuit of their happiness. His speaking style is perfectly adapted to his subject: He is warm and benevolent, as if speaking one-on-one with every person in the audience; and encourages people to raise questions and share experiences. I would recommend him enthusiastically to any group.
- David Kelley, Founder and Executive Director, Atlas Society
Soothing. Sensible. Concise. Insightful. Uplifting. I always learn something new when I hear Joel Wade speak, and I always feel better afterwards.
- Jack Kelley, Former Deputy Assistant Secretary of the Air Force, National Security writer for the Pittsburgh Post-Gazette.
Joel Wade will make a profound impact upon your life. His presentations will change how you view life; events impacting you and all those you come in contact with. When you leave a presentation with Joel you become empowered to positively impact life, those around you and the world.
- Dr. David Janda, Author, "The Awakening of a Surgeon"
I first heard Dr. Joel Wade speak at a gathering in San Diego. I was taken immediately by his grasp of subject matter and the interwoven personal experience and humor he interjected throughout in his delivery. I not only learned from and enjoyed the content of his presentation it was fun too!
- Thayrone
On The Edge with Thayrone
I've had the pleasure of listening to Joel speak several times. In those times I was struck by two unusual things: First, that he understands root issues very well. Joel doesn't just inform an audience, he directly addresses the real things (both good and bad) that they face. This is such an uncommon thing that I fear I'm not describing it correctly, but it is the difference between naming a thing and holding the thing in your hands. Secondly, Joel has actual compassion for the people he speaks to. Not "speaking with feeling," or, "showing compassion," but actually having the real thing. There is a difference. There are lots of people who can put on a show; there are precious few that have actual substance; Joel is one of them.
- Paul Rosenberg
"Dr. Wade is one of the highest rated speakers for our Young President's group. His presentation is packed with meaningful take home value; he provided the group with terrific tools that positively impacted our personal, family, and business lives."
- Jeff Ward, Founding Chapter Chair YPO (Young Presidents Organization) New Mexico
Joel Wade delivers an entertaining and practical guide to living a happy life. Once you realize happiness is a personal and conscious decision, Joel's useful workbook and council are invaluable to living life well and providing the tools needed to get and stay on track.
- Lynn Carrozza, Entreprenuer, New Mexico YPO/WPO Chapter Member
"I am very pleased to be able to recommend JOEL WADE. I have been with Joel where he was a speaker at large meetings. Joel's presentation skills are excellent and the audience was very attentive to his presentation and his message."
- John McBride, Entreprenuer, YPO member
"Dr. Joel Wade reveals an exceptional insight into personality and character with the kind gentle demeanor of a man who is understanding and willing to listen. Professionalism is in every aspect of his presentation and what I've experienced!"
- Mark Gilligan
"I have heard Joel speak several times over the last 4 years. His delivery is always genuine, his content deep and moving and his grasp of human emotions and actions enlightening. Joel's integrity is apparent in everything that he says. He makes sense when helping his audience sort through confusing and conflicting topics."


- Nancy P. LeRoy
Dr. Joel Wade is a breath of fresh air. Even before he speaks, there is a radiation of good will and benevolence, beautifully apparent in the way that he holds himself, and in the way that he smiles. How often do you get to hear someone who's glad that you're listening? And who delivers his sculpted content with great style. It's obvious that clarity is one of his passions.
- Will Block, President, Life Enhancement

Dr. Joel Wade spoke to our networking / mentoring group for women in Human Resources. His topic was "Happiness and Resilience in Difficult Times" and given our challenging economy, this was a perfect topic. Dr. Wade is a knowledgeable and relaxed speaker: he was well-prepared and listened carefully to questions, responding with comments that struck the right notes. We had a lot of positive response to his presentation. He also provided us with a downloadable handout including articles and exercises. I went through the packet, learned a lot and have shared this information with others.
- Marcia Stein, PHR; Author of Strained Relations: Help for Struggling Parents of Troubled Teens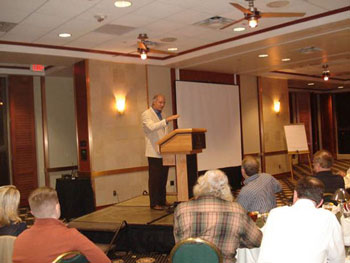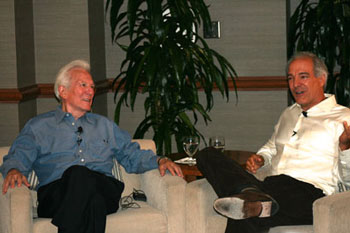 For Your Business: