Happiness Is Not Something You Have…
It Is Something You Do.
And When You Use "The 10 Principles To Living a Happier Life"
Which You'll Learn Through Dr. Joel Wade's Uplifting Audio
Course…
"Mastering Happiness"
You will  live a happier life – Guaranteed!
Make Real Progress You'll Notice
in as little as 4 weeks…

Mastering Happiness 6 cd audio course plus Manual, just $129
Or, if you order now, you can get all of this as a download for just $49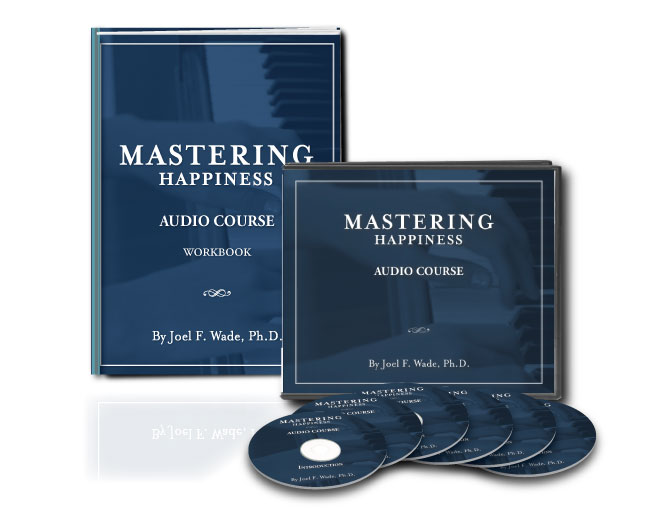 Get your copy of Dr. Joel Wade's course "Mastering Happiness" today… and discover what you can do right now to make the most of your life; given whatever your circumstances and opportunities may be.
Bringing you wisdom drawn from research in the field of Positive Psychology and relationship counseling, and his more than three decades of dedicated work with clients and students as a therapist, teacher, and life coach, Dr Wade's course brings you powerful guidance on how to create a happier, more successful and more satisfying life.
What will Mastering Happiness do for you?
Learn how to use gratitude as an antidote to being stuck in a negative mindset
Rescue yourself from wallowing in past painful memories
Practice real life relationship skills that can transform the atmosphere of your marriage, family connections, and friendships
Generate more positive emotional experiences in your life as part of a larger, deeper happiness
Build a more optimistic stance toward the challenges you face – a solid, earned optimism that strengthens you from deep within, and can significantly affect your success and health
Allow yourself the profound joy of total absorption in your work, play, and relationships
Take charge of your own thoughts and actions – you have more to say about these than you think
Strengthen your capacity to direct your own attention and steer yourself more effectively toward your goals
Discover the power of kindness – toward yourself and toward others
Understand the vital importance of living with integrity
Create a direction for yourself that is more deeply meaningful
These are real world, real life, real effective ideas and tools that you can use right now to make for yourself a better life.
The truth is, sometimes life hurts. Sometimes we are faced with struggles, within our own minds and from outside, that can be daunting.
A happy life is not a perfect life. A happy life is a joyful life, a resilient life, a good life you've built for yourself; a life you can be proud of.
This program will help you to more deeply own your own life, to create a way of life that is more genuine, more effective, and more connected with those you love.
Order your Mastering Happiness audio course now, cds and manual delivered to you for $129, or downloaded immediately for only $49.
And you're protected by Dr. Joel Wade's 100% Money Back Guarantee. If you listen to this course, and practice all of the exercises in the manual regularly, you will make real progress that you'll notice, in as little as four weeks.
If you're in any way dissatisfied with your Mastering Happiness experience, just contact Dr. Wade at jwade@drjoelwade.com to get a prompt and courteous refund.
As you can see, you have absolutely nothing to lose. And a happier and more fulfilling life to gain, starting today!
So get your Mastering Happiness audio course now… cd's and a hard copy manual for $129, or downloaded immediately for only $49.